Rare Diseases Are More Common Than You Think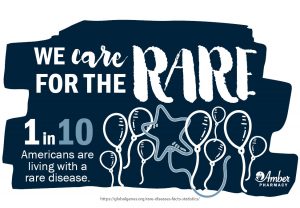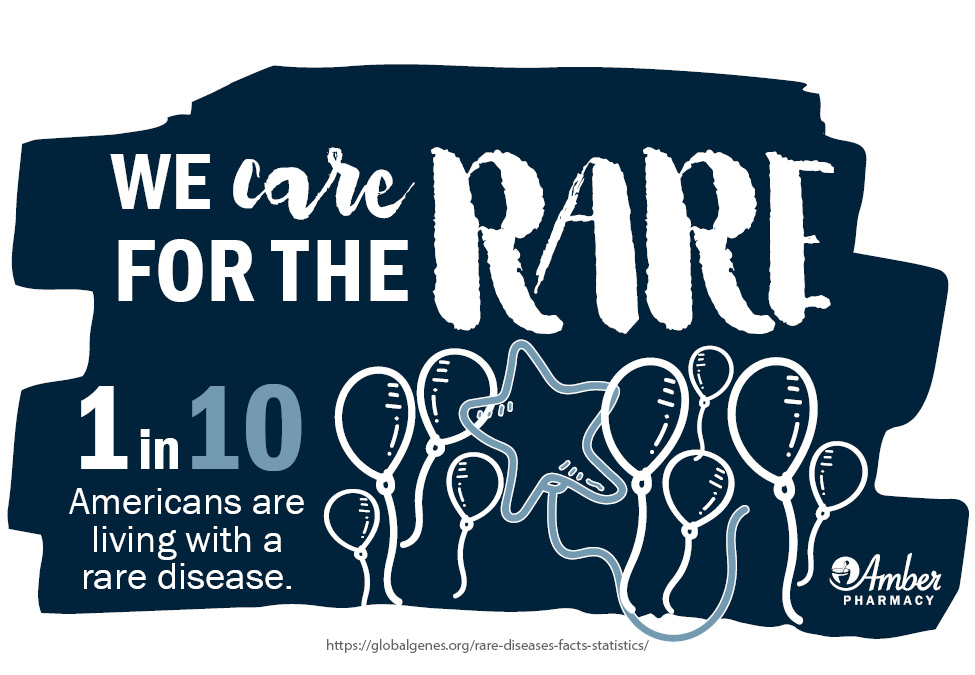 By: Jennifer Howder, Pharm.D., BCOP, Clinical Pharmacist
Here at Amber Pharmacy, I have the privilege to work with patients who have rare diseases and help them improve their health. When you hear of rare diseases, the word "rare" implies very few people are affected. Even though each rare disease affects a small number of people, around 25-30 million people in the U.S. have a rare disease.
Because rare diseases affect so many people in the U.S., I'd like to share a few key facts about rare diseases that you should know.
What is a rare disease? For a disease to be considered rare in the U.S., it must affect fewer than 200,000 people. There are 7,000 rare diseases currently identified, which can make diagnosing patients with rare diseases difficult.  Most rare diseases are genetic, but they can also include infections, rare cancers and autoimmune diseases.
The number 7,000 can seem overwhelming and discouraging, but a lot is being done to develop treatments for rare diseases.
The National Institutes of Health (NIH) supports research for rare diseases and focuses on finding new treatments. New highly-precise medications called orphan drugs are being developed to treat rare diseases. Even though orphan drugs treat small numbers of patients, the Food and Drug Administration (FDA) is approving more orphan medications each year. In 2016, the Office of Orphan Products Development received 568 new requests for orphan designation – more than double the number of requests in 2012.
The development and FDA approval of new orphan drugs means there is more hope than ever before for patients with rare diseases. There is also a growing support community for patients with rare diseases. Organizations such as the Rare Action Network (RAN) work to advocate to improve the lives of the millions of Americans living with rare diseases. Joining RAN is a great way to advocate for those with rare diseases and be connected with other patients and resources.
Even though the number of rare diseases seems to grow, the number of available treatments are growing as well. As more treatments come to the market, the Rare Disease Center of Excellence team at Amber Pharmacy looks forward to improving the quality of life for a greater number of patients.
---
Meet the Author
Jen graduated from Creighton University in 2006. She completed a one-year Pharmacy Practice Residency at the University of Michigan Hospitals & Clinics in Ann Arbor, Michigan, and then completed a one-year Oncology Specialty Pharmacy Residency at Nebraska Medicine. Jen has been with Amber Pharmacy since 2015 and serves as the pharmacy's Rare Disease Center of Excellence pharmacist. She finds it very gratifying to work with patients who can receive medications that can improve their quality of life when there may have previously been no treatment options available. In her spare time, Jen is busy chasing after her young son Max. She also enjoys traveling with her husband, reading, watching Netflix and playing basketball.
This information is intended for educational purposes only. The material is not a substitute for professional help or medical diagnosis. It is important that you consult a medical professional if this information leads you to believe there is a concern for you or your patient(s). The diagnosis and treatment of all physical and/or psychological disorders requires a trained professional.