What is a Specialty Pharmacy?
June 10, 2021
Amber Specialty Pharmacy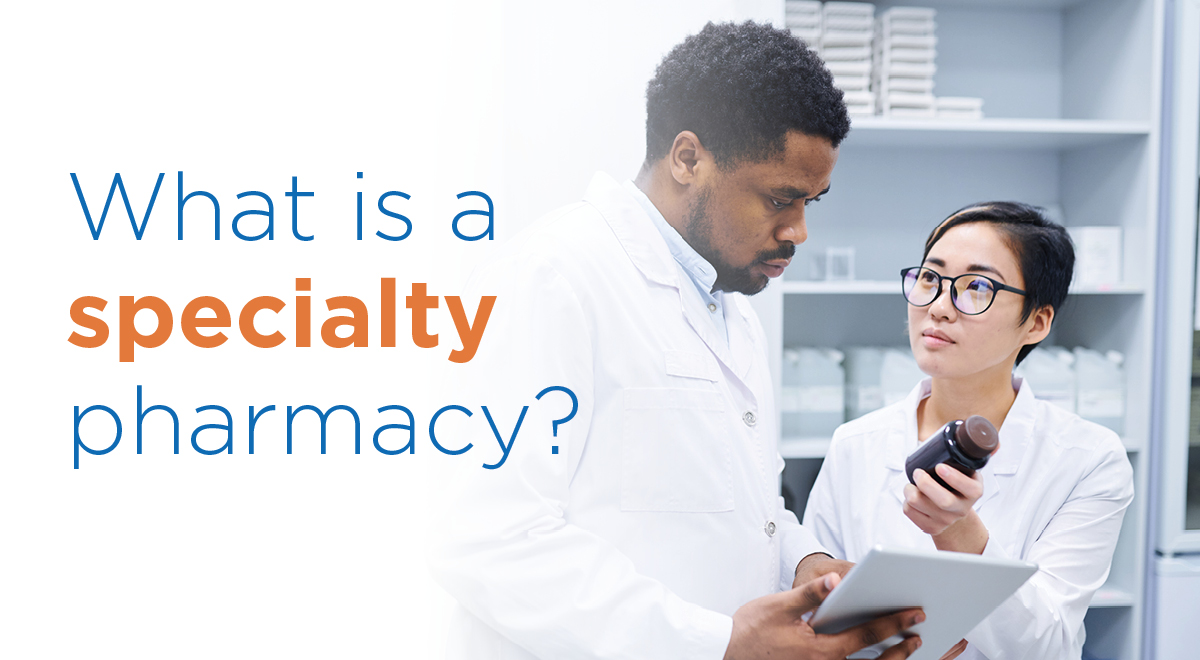 As a healthcare provider, you are asked a steady stream of questions by your patients. It's a natural part of the job and, typically, you have the answers to calm a patient's anxiety. But when it comes to talking about complicated specialty medications, one question usually leads to many – taking precious time from your day.
Some of these questions probably sound familiar:
What are specialty drugs and what is a specialty pharmacy?
Why can't I use my regular pharmacy to fill this specialty drug prescription?
How am I going to pay for this expensive medication?
You wish you had all the time and resources needed to answer the endless list of questions but you don't – and you are not alone. The scope of services provided by a specialty pharmacy may be exactly what you are looking for to meet your patient's medication needs and save you time.
Let's answer some of those common patient questions and help you get a better idea of how a specialty pharmacy can be a valuable resource for you and your team.
Things You Need to Know About Specialty Pharmacy
Specialty pharmacies deal with medications not typically found in retail pharmacies. These medications are usually high-cost products used to treat complex diseases. This includes chronic and rare conditions. Oral, injectable and infused medications are dispensed and regular follow-up is provided. A team of specialists help patients directly with insurance coverage, copay assistance, medication counseling and adherence.
Other traits of a Specialty Pharmacy that are useful to providers include:
Quick turn-a-round times to fill new patient scripts and referrals.
Coordination of services between patients and providers regarding medications.
Access to clinical pharmacists, nurses, and dietitians with an in-depth understanding of specialty diseases and medications.
What Conditions Are Handled by a Specialty Pharmacy?
Not all specialty pharmacies are the same. Most focus on certain key conditions of care. For example, some work with only rare disease patients while others emphasize inflammatory drugs or cancer medications. Some of this depends on what limited distribution medications can be dispensed by the pharmacy.
As a provider, you are looking for versatility. This means a specialty pharmacy that offers medications for a broad range of patient care conditions. Working with one specialty pharmacy brings you ease and flexibility while meeting a variety of patient care needs.
We dispense medications and specialty care for all of the following conditions:
Organ Transplant
Cancer Care
Epilepsy
Asthma
HIV
Fertility
Multiple Sclerosis
Migraines
Growth Hormone Deficiency
Hepatitis C
Hemophilia
Psoriasis/Psoriatic Arthritis
Rheumatoid Arthritis
Crohn's Disease
Tardive Dyskinesia
Rare Conditions
What is a Specialty Drug?
Specialty Drugs are FDA-approved medications used to treat complex medical conditions. These meds are expensive and require special handling, preparation, and storage. Specialty drugs are either taken orally, by injection, or infusion and share these criteria:
Specialty medications are very expensive, often running into thousands of dollars each year.
Some specialty medications have restricted access meaning they are only dispensed by a small number of pharmacies. For the other pharmacies, this can make access to certain drugs more limited.
Some specialty medications are part of a REMS program. REMS stands for Risk Evaluation and Mitigation Strategies and can be required by the Food and Drug Administration to ensure the benefits of the drug outweigh the risks.
What Programs Help Patients with High Copays?
The cost of specialty meds can be alarming to patients. Treatment costs add up quickly if patients don't have the proper insurance coverage. Thankfully, we have access to a variety of resources that may help offset those high costs. Three of these include:
A specialty team of billing experts will file the insurance claims and handle many of the details associated with prior authorizations, denials, and benefit investigations for you and your patients.
Grant specialists who explore foundational grants and other financial alternatives to help patients pay for their medications. The Patient Advocate Foundation and Patient Assistance Program (PAP) are two examples that work closely with our specialty pharmacy to save patients money on medication costs.
Specialty pharmacies also work closely with pharma manufacturers. Pharma programs are often available to reduce medication costs for patients who meet certain eligibility criteria. Specialty pharmacies are made aware of these when a new drug comes into the market.
How Can a Specialty Pharmacy Help You and Your Patients?
Hopefully, as you glanced over this list of questions and answers, it becomes clear: you can save a lot of time every day by using our specialty pharmacy services. In addition, you are helping your patients with many of their specialty medication care needs.
As you become familiar with our services and refer a patient you will see the real savings add up, both in time and resources.
Share Article