A Time for Gratitude
November 20, 2017
Amber Specialty Pharmacy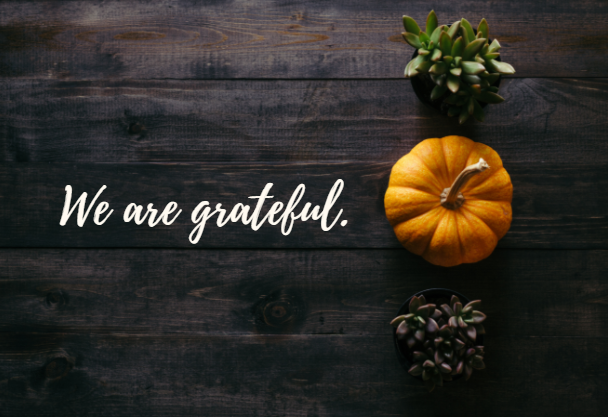 Thanksgiving is here, reminding us to reflect on the things that matter most in life. At Amber Specialty Pharmacy, we have many things to be thankful for, and I cannot think of a better time to list just a few of the things for which we are truly grateful.
First and foremost, we are thankful for our patients. The entire Amber Specialty Pharmacy team is grateful for the ability to make a positive impact in the lives of so many people. When you ask members of the team why they enjoy working at Amber Specialty Pharmacy, the answer is always the meaningful interactions we have with patients and caregivers. Whether it's finding resources to help a patient pay for their medication, managing medication side effects or simply listening to their concerns, we're grateful to be able to help. We're also grateful for the trust that our patients have in us to always advocate on their behalf. This is a responsibility that we don't take lightly and it is the heart and soul of what we do.
We're thankful for our teammates who show tireless dedication and compassion day in and day out. At Amber Specialty Pharmacy, we tend to call ourselves a "phamily," and the bond that holds us all together is our love for our patients. We lean on each other for support and always know we can count on each other's expertise and guidance.
We're grateful for the dedicated healthcare providers that we interact with daily. I'm always amazed at the level of commitment and compassion providers have for their patients. Partnering with providers to deliver the highest level of patient care is a joy our team experiences each day.
Last but not least, our team is grateful for the new developments in the specialty pharmacy industry. New specialty medications offer precision medicine and improve care. Our team is looking forward to expanding our offerings into the infusion market, where we will be able to bring our level of expert, hands-on care to a larger number of patients.
I hope this time of year also has you reflecting on all of the gifts in your life. From all of us at Amber Specialty Pharmacy, THANK YOU and we hope that you have a wonderful Thanksgiving with family and friends!
---
Meet the Author
Mike serves as the President of Amber Specialty Pharmacy and Hy-Vee Pharmacy Solutions, which are both specialty pharmacies that offer true best-in-class program practices that address all aspects of patients' healthcare needs.
Mike holds a Bachelor of Science Pharmacy Degree from Northeastern University. He serves on several boards including the Board of Advisors for Specialty Pharmacy, the Board of Directors for the Leukemia and Lymphoma Society (LLS), and several other non-profit, economic and community organizations. Mike also serves as the 2018 President of the National Association of Specialty Pharmacy. He is currently an Editorial Board Member for Specialty Pharmacy Times and is the author of many published articles, including "Specialty Pharmacy: Increasing Value through Accountability and Collaboration," which appeared in the publication's February 2012 edition.
Share Article