Specialty Pharmacy Trends and New Medication Therapies to Expect in 2019
Author: Shelly Nickerson, Clinical Director of Trade Relations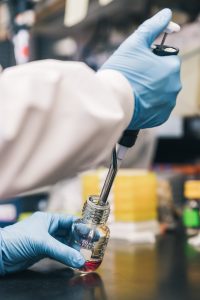 Specialty pharmacy is at the forefront of change and innovation within a rapidly evolving pharmacy industry. As the clinical director of trade relations at Amber Pharmacy, I monitor product pipelines and keep a watchful eye on industry trends across the entire healthcare industry. In 2019, expect to see growth in the biosimilar drug category, continued demand for specialty pharmacy services and advancements in gene targeting cancer therapies. There are also many exciting new medication therapies in the pipeline for 2019.
Growth in the Biosimilar Drug Category
Many important medications on the market today are classified as biologic drugs. Biologics are complex medications made from living cells. When the patent on a biologic expires, it opens the door for pharmaceutical companies to develop their own version of these medications. This new version of a biologic formula is classified as a biosimilar.
So far, only 16 biosimilars have received FDA approval, of those, only six have reached the market. That number is expected to rise this year due to several patent expirations along with the recent Biosimilar Action Plan (BAP) released by the FDA earlier this year. This drug category has received a high level of interest for years, which is a trend expected to continue. The global biologic market is expected to surpass $390 billion by the end of next year.
Continued Demand for Specialty Pharmacy Services
The Food and Drug Administration (FDA) oversees new drugs and medication therapies at the Center for Drug Evaluation and Research (CDER). Of the drugs in phase three clinical trials with the FDA, 60 percent of them are specialty medications. This means there will continue to be a growing demand for specialty pharmacies and the additional, high-touch services they provide. Through CDER, the FDA supports the development of these innovative products and therapies by assisting with scientific and regulatory advice to grow the list of novel drug approvals.
Advancements in Gene Targeting Cancer Therapies
In November 2018, the FDA approved a cancer treatment designed to target a specific gene. This new medication is approved to treat many different kinds of cancer since it targets biomarkers instead of the tumor's location within the body. This is just one example of the shift away from traditional chemotherapies to personalized treatment based on tumor genetics. Another promising area in oncology research is immunotherapy. CAR T-cells therapy shows promise in fighting blood cancer as well as a hopeful future treatment for solid tumors. In 2019, expect more research and more FDA approvals for highly targeted oncology therapies.
Exciting Medication Therapies to Watch for 2019
There are several highly anticipated drug approvals to watch in 2019. Specialty Pharmacy Times highlights new specialty medications for irritable bowel syndrome for constipation, multiple sclerosis and breast cancer. Here are a few more exciting new medication therapies to watch in 2019.
Brexanolone is proposed for treatment of moderate and severe postpartum depression (PPD). This medication from Sage Therapuetics is delivered one time through a continuous IV infusion lasting 60 hours. Pending FDA approval, brexanolone is expected to become available early this year.
Cladribine is the generic name for an oral medication originally indicated for cancer treatment. In early 2019, the FDA is expected to approve this drug for patients with relapsing multiple sclerosis (MS). Many current MS treatments require significant patient commitment to regular doses of medication. If approved, Cladribine would limit treatment to 20 days over two years with no additional dosing for two more years.
Abbvie and Boehringer Ingelheim are working together to develop Risankizumab. Risankizumab is potentially indicated for Crohn's disease, psoriatic arthritis, psoriasis and ulcerative colitis. Administered as a subcutaneous injection, patients would receive treatment every 12 weeks after the initial loading dose. FDA approval is expected in the spring of 2019.
Amber Pharmacy's Continued Commitment to Patient Care
The new year promises to be an exciting one for the specialty pharmacy industry. With over 20 years of experience in this dynamic market, Amber Pharmacy is positioned to navigate these new trends and breakthrough developments as an industry leader. Regardless of the changes we see in the specialty pharmacy industry, Amber Pharmacy remains focused on providing a personalized patient experience backed by exceptional clinical expertise. Patients have been and will continue to be our focus in 2019 and beyond.