Amber Specialty Pharmacy's Peggy Tomes Receives the 2021 Specialty Pharmacy Service Excellence Award from the National Association of Specialty Pharmacy
January 04, 2022
Amber Specialty Pharmacy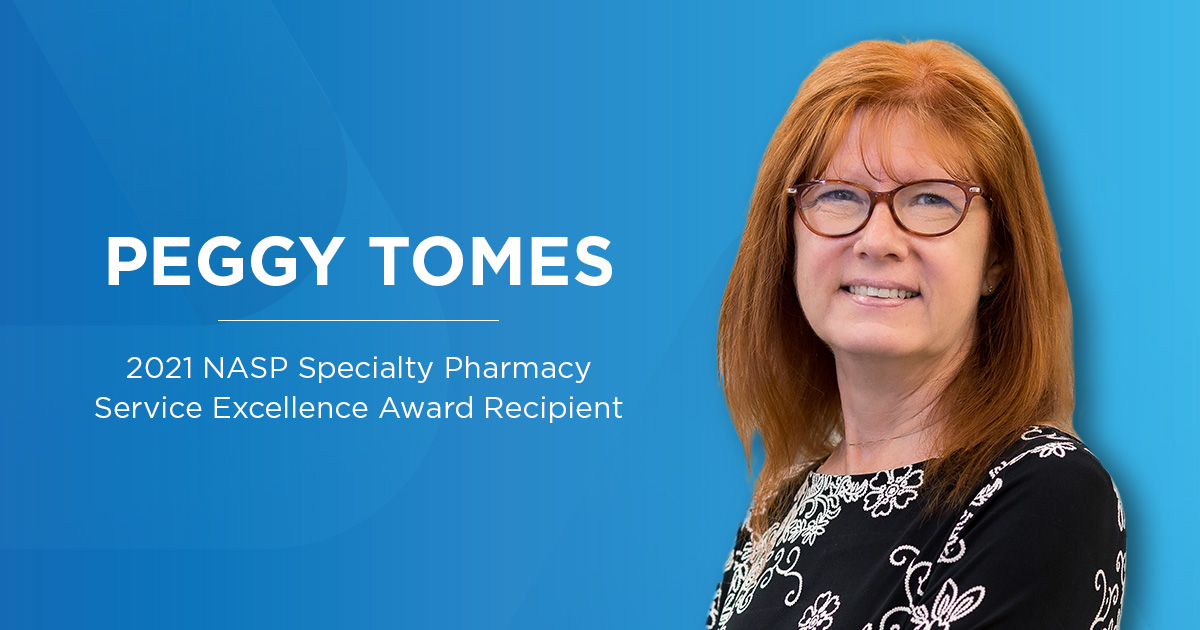 OMAHA, Neb. (Jan. 4, 2022) – The National Association of Specialty Pharmacy (NASP) recently awarded Peggy Tomes, senior vice president of auditing and quality assurance at Amber Specialty Pharmacy, with its prestigious Specialty Pharmacy Service Excellence Award.
"When I started with Amber Specialty Pharmacy, it didn't take long for me to gravitate toward caring for our transplant patients," Tomes said. "I'm proud to help our organization uphold our transplant legacy and extend that same level of passionate care to all the disease states we support today. Thank you to my peers and NASP for this honor and award."
The Specialty Pharmacy Service Excellence Award is reserved for an industry professional who is not a pharmacist, but has demonstrated a commitment to delivering high-quality service and care to patients. According to her nomination, Tomes was recognized for her commitment and passion for patient care throughout her career. In her more than 23 years with Amber Specialty Pharmacy, Tomes has performed nearly all patient-facing roles – welcome calls, refill reminder calls, benefit verifications and more. Today, Tomes serves as an invaluable resource for all employees with her unparalleled knowledge of Centers for Medicare & Medicaid Services' (CMS) regulations and billing procedures. Tomes has lobbied in Washington, D.C., and presented to lawmakers and clinical experts on issues that directly impact the lives of transplant patients. Tomes' voice and involvement was also critical in convincing CMS to reassess and ultimately revise its language around policy change that affected the shipment of transplant medications.

"Peggy is incredibly deserving of this award and we are happy her peers thought so, too," said Kristin Williams, president of Amber Specialty Pharmacy. "Peggy has been with Amber Specialty Pharmacy since day one and has helped shape some of the most important elements of our business and patient care strategies. This award celebrates and recognizes Peggy's impact on our patients and the industry at large."

NASP is the only nonprofit national association representing all stakeholders in the specialty pharmacy industry. The mission of NASP is to elevate the practice of specialty pharmacy by developing, delivering and promoting continuing professional education and specialty certification while advocating for public policies that ensure patients have appropriate access to specialty medications in tandem with critical services.
Amber Specialty Pharmacy, a Hy-Vee, Inc. subsidiary, is a pioneer and leader in the specialty pharmacy industry with more than 23 years of experience providing specialized care for persons with chronic, complex medical conditions. Amber Specialty Pharmacy has built an exceptional reputation by providing personalized support and quality clinical care to patients and families. This comprehensive care approach supports the medical, emotional, financial and administrative needs of patients throughout the United States. Amber Specialty Pharmacy is accredited by the Utilization Review Accreditation Commission (URAC) and the Accreditation Commission for Health Care (ACHC). Amber Specialty Pharmacy headquarters are located in Omaha, Nebraska, with an additional 20 locations throughout the United States and Puerto Rico. Amber Specialty Pharmacy was named the 2020 Specialty Pharmacy of the Year by the National Association of Specialty Pharmacy.

Share Article