Navigating Prescription Labels
April 09, 2018
Amber Specialty Pharmacy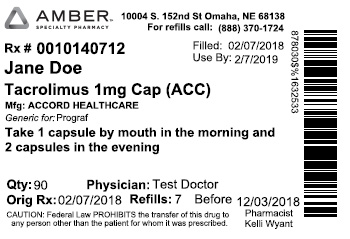 Prescriptions can come with quite a bit of information. You may think the directions are the only part of the label you need to read, but that's not true. It's key to comprehend your entire prescription label.
To help you understand prescription labels, I'll walk you through each key piece of information.
Your typical label may look like the image to the right. The first thing to note is the Rx#, which is unique to you. This number helps the pharmacy identify your prescription. Below the Rx# is your name, the medication name and how much of the drug you take per dose (1mg, in this case). The ACC in parenthesis and Mfg: ACCORD HEALTHCARE below the drug name indicate who makes the drug.
If you're taking a generic drug, this will be noted on the label as well. You'll see on the pictured label that this medication is a generic for the drug Prograf. You'll also see how much of the medication you need to take per dose and how often you need to take a dose. It's important to read this carefully and take your medication exactly as prescribed. The label will display how many pills are in the bottle, your doctor's name and the date the prescription was received. How many refills you have left before a specific date will also be shown.
Prescription labels often come with warnings you need to note. These warnings are often highlighted and may tell you to take your medication with food, not breastfeed while on medication, not operate machinery, etc. All warning labels should be taken seriously. If you have questions about warning labels on your medications, talk to your pharmacist.
Your medication will come with a handout covering drug-specific information. This handout includes what the drug is taken for, side effects and any warnings you should know before taking the medication. It's important to read through this handout, especially when starting a new medication.
Knowing how to read your prescription label will increase the likelihood of taking your medication correctly. It will also help you better understand your treatment and any precautions you need to take. If you ever have questions about your prescription label, don't forget to ask your pharmacist. We're always happy to help!
---
About the Author
Kelli Wyant graduated from pharmacy school in 2006 from Creighton University. She enjoys working at Amber Specialty Pharmacy because we strive to always do what is right for our patients. Kelli was born and raised in Omaha and enjoys traveling spending time with friends and family.
Share Article