Mailing Specialty Medications Efficiently and Accurately with Amber Pharmacy
Author: Michael Markowski, Lead Shipping Specialist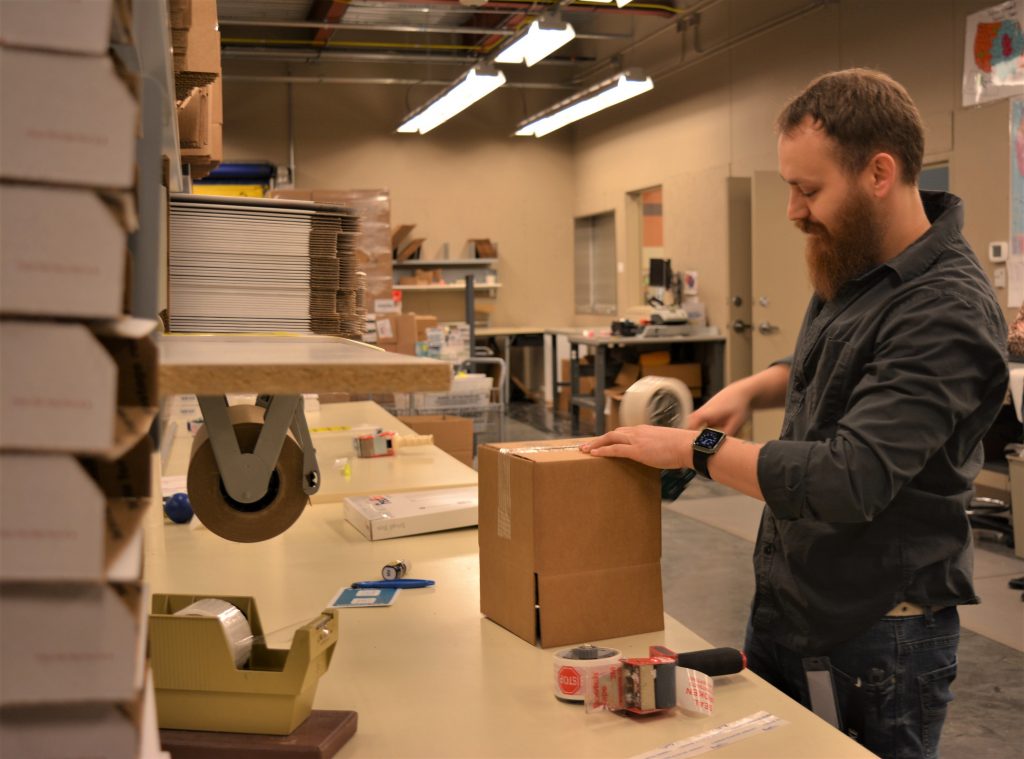 One of the unique things about specialty pharmacy is that the medications are usually shipped directly to each patient's front door. This requires a team of experienced, detail-oriented shipping specialists. At Amber Pharmacy, we know that behind every shipment is a patient. Our shipping specialists impact the outcome for our patients by making sure they get their medications on time, every time.
Shipping Efficiency
The shipping specialists at Amber Pharmacy ship thousands of specialty medications to addresses across the country. Every day, the shipping specialists act as an important quality control checkpoint, reviewing each medication order before sending it out. Our shipping team coordinates with other departments to support the efficiency of our entire dispensing operations and avoid potential treatment delays. Strategic Amber Pharmacy locations across the U.S. also help maximize efficiency.
Amber Pharmacy relies on trusted shipping organizations to deliver our patients' lifesaving medications right to their front door. The shipping specialists at Amber Pharmacy are familiar with all the different ways to ship a package. This means the shipping specialists can get our patients their medication where they need it, when they need it. Sometimes medications will need to reach the patient overnight. Our shipping specialists evaluate the options and find the fastest way to get the medication to the patient.
Our shipping specialists are responsible for sending out critical education and support materials in addition to medication shipments. When patients fill their first prescription with Amber Pharmacy, they also receive a welcome folder with important information and a wellness kit with condition-specific items to support their treatment journey.
Medication Storage and Monitoring the Weather
Since the shipping specialists are dealing with important, expensive medications, they pay close attention to the medication storage guidelines. If the medication needs to stay cold, the shipping team makes sure it stays cold. They take extra care to package the medication in such a way that it arrives cold when it reaches the patient's hands. To ensure the effectiveness of the medication and the safety of our patients, there are systems in place that alert the patient if the medication arrives at the wrong temperature. If the medicine is going to a warm state or when the temperature increases during the summer months, the shipping specialists add additional ice packs along with other safety measures.
Shipping specialists and clinical pharmacists work together to keep a close eye on the weather. They monitor weather forecasts to watch for blizzards, hurricanes, flooding and anything that could potentially interrupt a medication shipment. The shipping specialists adjust their packaging depending on the destination of the medication and the season. In the event of extreme weather or emergency conditions, Amber Pharmacy works with local organizations and first responders to get patients their lifesaving medications. When an Amber Pharmacy location is unable to ship medications due to an emergency, we have backup systems in place to continue sending medications and help our patients avoid disruptions in treatment.
Shipping Accuracy and Tracking Medications
Amber Pharmacy uses the latest technology to monitor shipments and help patients track their medication orders. For safety and security, all prescriptions are tightly sealed and mailed in discreet packaging. Depending on the prescription, patients may have to sign for the medication upon delivery.
The shipping specialists at Amber Pharmacy coordinate closely with patient care coordinators, patient care specialists and technicians and clinical pharmacists to ensure the medications arrive at the right location and on time. Sometimes patients have multiple addresses or they request their medications to be shipped to a new location. The shipping specialists pay close attention to the entire medication delivery process to ensure the medication arrives at the right location.
Lost or Damaged Medication Shipments
If a medication arrives damaged, unusable or broken for whatever reason, patients simply have to call Amber Pharmacy and we'll handle it. Patient care coordinators, specialists and technicians work closely with Amber Pharmacy's clinical pharmacists to determine how to handle the situation since many factors may influence the resolution. In some situations, Amber Pharmacy will work with manufacturers to send replacement medications for those damaged or a replacement is shipped right from the pharmacy.
Accessing Specialty Medications with Amber Pharmacy
Amber Pharmacy makes it easier for our patients to access their lifesaving specialty medications. We understand that every member of our team has an important role in helping our patients manage complex, chronic conditions. Visit our website to learn about all the ways Amber Pharmacy delivers exceptional patient care and clinical expertise with every prescription we fill.