James McCune Smith: A Bright Student, an Accomplished Doctor and a Community Leader
Author: Amber Pharmacy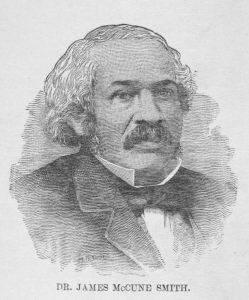 February is Black History Month, and Amber Pharmacy is highlighting the individuals who made history in the medical and pharmacy community and inspired the leaders of today. Learn more about James McCune Smith, the first practicing African-American physician in the U.S. and a prominent abolition leader.
A Bright Student
James McCune Smith was born into slavery in New York City on April 18, 1813. The Emancipation Act of New York in 1827 freed Smith at the age of 14.
Smith attended the African Free School where he was known as a bright student with high energy and a knack for public speaking. Smith wanted to continue his education at a university, but he wasn't accepted by schools in the U.S. because of his race. Reverend Peter Williams, who tutored Smith throughout his studies, encouraged Smith to go overseas for school and helped provide the funds.
With support from back home, Smith attended the University of Glasgow in Scotland where he earned three degrees. After earning a bachelor's degree in 1835 and a master's degree in 1836, Smith was awarded his Doctorate of Medicine degree in 1837.
A Historical Medical Career
After working as a doctor in Paris for a short time, Smith returned home to New York City. When Smith opened his pharmacy on West Broadway, he made history as the first ever pharmacy run by an African-American. From 1838 until his 1863, Smith worked as a physician and a surgeon. He also provided medical care to the Colored Orphan Asylum for over 20 years.
An Impactful Public Figure
While the front of Smith's office was dedicated to practicing medicine, Smith devoted the back of his office to his other interests. Smith was an accomplished writer, public speaker and advocate for the African-American community. He published several scholarly articles. Some of his most famous works include "A Lecture on the Haitian Revolution" and "The Destiny of Colored People." Smith and Frederick Douglass, a writer and public speaker who helped lead the abolitionist movement, established the National Council of the Colored People. This organization was the first of its kind and helped advocate for the interests of the African-American community.
After a lifetime of groundbreaking achievements and public service, Smith died of heart disease on November 17, 1865. His legacy and his passion for education continue to inspire future generations of scholars, activists and medical leaders.