Innovations in Care for Duchenne Muscular Dystrophy (DMD)
October 09, 2020
Amber Specialty Pharmacy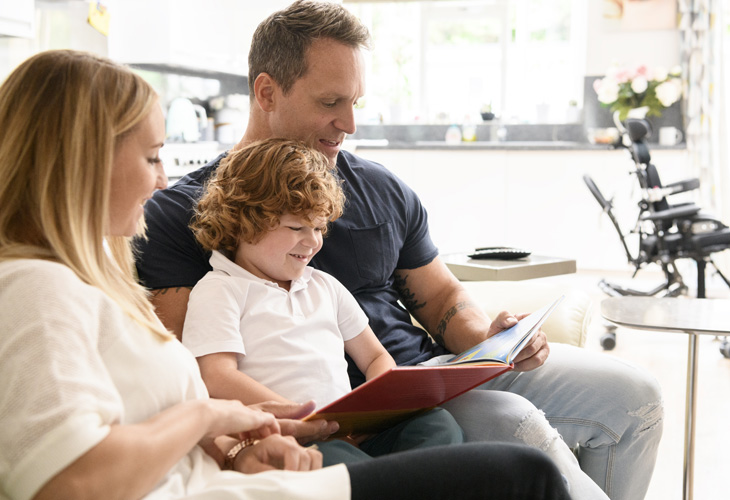 Amber Specialty Pharmacy's Rare Disease Center of Excellence selected by PTC Therapeutics to Dispense FDA-Approved Duchenne Treatment – Emflaza®
A Look at Duchenne
Duchenne Muscular Dystrophy (Duchenne or DMD) is a rare genetic disease that causes muscles to weaken over time. Duchenne is one of more than 30 forms of muscular dystrophy. DMD numbers show the facts:
Occurs in 1 in 3,600 to 6,000 males born world-wide and rare in females
Average age at diagnosis is 5 years old
Time from the first symptoms of Duchenne to diagnosis is 2.5 years
90% of children with Duchenne are in wheelchairs by age 15
DMD is one of the most serious genetic diseases in children worldwide. Currently there is not a cure for this disease. Children with DMD may be slower to sit, stand or walk. Other common signs and symptoms of Duchenne include:
Frequent falls
Delayed speech
Noticeable tiredness and fatigue
Behavioral and learning problems
Genetics and How Duchenne Affects Children
Duchenne is a genetic disease meaning there is a mutation, or flaw in one of the body's genes. In DMD, dystrophin, a protein needed to strengthen and protect muscles is missing or found only in small amounts. Children with Duchenne have a higher risk of neurological and behavioral disorders because dystrophin is also thought to be found in the brain. Some of these disorders may include:
ADHD
Autism spectrum disorder
Dyslexia
Seizures
Physically, without dystrophin, muscles weaken. In the case of DMD, the body does not receive instructions to make dystrophin which is needed for movement, mobility and breathing.
As muscle cells are damaged and die, the body replaces dead muscle tissue with scar tissue and fat in a process called fibrosis. This leads to shortening muscles and eventually skeletal deformities that affect posture and gait. Eventually standing, walking, and mobility are lost.
Currently more than 90% of persons with DMD are in wheelchairs and have neck-down paralysis by 15 years of age. The heart and muscles around the lungs are the last muscles to deteriorate.
In the late stages of the disease patients develop congestive heart failure and have trouble swallowing and breathing which results in respiratory disorders such as pneumonia. Patients generally succumb to the disease in their 20s and 30s, however life expectancy can vary.
Inflammation and DMD
With no cure for Duchenne, the goal of treatment is to extend mobility and strengthen heart and lung muscles through physical therapy, respiratory therapy and medication.
Medications used in DMD decrease inflammation. Inflammation is the body's natural reaction to injury and infection. Chronic inflammation advances muscle deterioration, weakness, obesity, and speeds up the progression of DMD.
Corticosteroids are the most commonly used medications for Duchenne and help reduce inflammation in the muscles. They may also help the heart and lungs remain strong and lower the chance of having a severely curved spine – called scoliosis.
Specialized Pharmacy Support in Managing Duchenne
Patients, families and providers dealing with a Duchenne diagnosis understand the importance of working closely with a skilled team of healthcare professionals. As new medications move forward to slow the progression of DMD a strong, supportive relationship with trained pharmacists familiar with complex medical conditions is essential.
Specialty Pharmacies offer skilled teams of pharmacists and specialists supporting patients and providers dealing with rare conditions of care like Duchenne. Today a variety of unparalleled support services are available through leading high-touch specialty pharmacies and include:
Compassionate individualized clinical care with 24/7 pharmacist access
Initial pharmacist consultations and follow-up throughout the care journey
Financial guidance with prior authorizations, co-pay and out-of-pocket costs
Coordination of care and on-time medication deliveries
Refill reminders by phone, email, and text messaging
Online patient/caregiver portals and online patient account access
Educational resource materials
FDA-Approval for Emflaza®
Emflaza® is the first FDA-approved corticosteroid in the United States, shown to slow the progression of Duchenne Muscular Dystrophy. Emflaza® is indicated for treatment in DMD patients 2 years of age and older.
Amber Specialty Pharmacy – Individualized Care for Duchenne Patients
Through a recently announced partnership, PTC Therapeutics clients now have the option to choose Amber Specialty Pharmacy, a nationally recognized industry leader in the specialty pharmacy space, to access Emflaza.
Amber Specialty Pharmacy's best-in-class service model is known for its long-standing commitment to compassionate care and personalized service for patients with rare and complex medical conditions. The company is uniquely qualified to support patients diagnosed with Duchenne Muscular Dystrophy. Key differentiators include:
99% Patient Satisfaction Rating
80- Net Promoter Score
$42 Million in Patient Savings in 2019
21 Pharmacy locations nationwide
40 Limited Distribution Networks
Amber Specialty Pharmacy's Centers of Excellence (COE) provide condition-specific expertise for rare disease patients offering direction, best practice, and open communication with patients, providers and partners. Amber Specialty Pharmacy is one of two specialty pharmacies selected by PTC Therapeutics to dispense Emflaza.
To learn more about managing Duchenne Muscular Dystrophy and Emflaza, Amber Specialty Pharmacy is ready to help. Visit Amber Specialty Pharmacy at www.amberpharmacy.com.
Additional Resources
www.duchenne.com
www.duchenneandyou.com/resources
www.mda.org
www.cureduchenne.org
Share Article