Choose Your Specialty Pharmacy Because You Want To, Not Because You Have To
July 06, 2017
Amber Specialty Pharmacy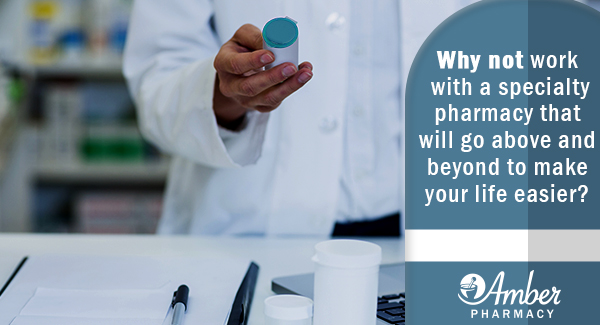 Did you know you're not limited to only using the pharmacies listed on the back of your patient's insurance card? Amber Specialty Pharmacy accepts many commercial insurance plans and most state Medicaid. So why not work with a specialty pharmacy that will go above and beyond to take care of your patients and make your life easier?
At Amber Specialty Pharmacy, we know that if there's one thing healthcare providers don't have, it's extra time. That's why we help take care of your administrative work so that you can continue to focus on what is most important — your patient's health and well-being. We go above and beyond every day to provide services that make providers' lives easier.
The top reasons healthcare providers love Amber Specialty Pharmacy include:
Clinical Excellence

Our disease-state focused teams are led by experienced clinical pharmacists, many of whom are board certified. Each team offers personalized patient care and support for the clinical, financial, educational and emotional needs of patients. All of our programs are designed to promote medication adherence, compliance and improved outcomes.
Coordination of Benefits
We accept all forms of prescription medication coverage and will verify all of the patients' insurance and coordinate benefits. This includes billing private insurance, Medicare Parts B & D, most Medicaid plans, special assistance programs and insurance cards.
Our team will determine the order of payers to ensure medications are billed appropriately. If patients are covered by more than one plan, we use all benefits to ensure patients receive maximum coverage. We also complete prior authorizations to the extent that we are able.
Two-Hour Turnaround
Amber Specialty Pharmacy verifies all of the patient's insurance, including coordination of benefits, and calls you back within two hours—guaranteed!
Patient Assistance Programs
Medications can be a financial burden. Our team helps patients research financial aid options, so they can focus their time and energy on their health and well-being. This includes working directly with manufacturers to apply co-pay cards. We also work with grants and foundations to help patients apply for financial help.
Patient Education
We provide customized patient education through our condition/medication specific Promises Programs®. Amber Specialty Pharmacy's Promises Programs offer personalized patient care and the clinical support necessary to promote medication adherence and compliance. Patients are also provided with customized wellness kits which include condition-specific educational materials and resources.
Patient Satisfaction
Since Amber Specialty Pharmacy opened in 1998, we've made it our mission to always put the patient first, which is why we employ a whole-health approach. Whether it's helping patients find financial assistance, connecting them to support groups in their communities or talking them through their first self-injection, we do whatever it takes to provide outstanding service.
In the Q42016 Zitter Health Insights Patient Satisfaction Survey, 100% of our patients indicated they were satisfied with the service they received from Amber Specialty Pharmacy employees.
Could these services benefit you and your patients? Spend less of your workday worrying about clerical tasks and more of it with patients by referring to Amber Specialty Pharmacy.
Share Article