Breast Cancer Awareness Month | Self-Awareness Is Key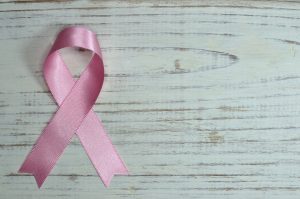 By: Jill Raybourn, Pharm.D., Clinical Pharmacist
Sadly, breast cancer has touched almost all of our lives in some way. Breast cancer is the most commonly diagnosed cancer in women, with one in eight women in the U.S. being diagnosed in her lifetime, according to the National Breast Cancer Foundation. Now that it's Breast Cancer Awareness Month, I hope you'll take a few minutes to learn the warning signs of breast cancer and recognize the importance of early detection.
When it comes to spotting cancer, the earlier the better. Early detection means finding cancer before it spreads. It also means more treatment options that are less invasive and potentially less expensive. Noticing the signs of breast cancer can help with early detection but there are still things a woman with no symptoms can do to help with early detection.
One way to spot breast cancer early is to be self-aware. Being aware of how your breasts normally look and feel will help you notice any changes. Adult women are also advised to perform self-breast-exams at least once a month to help spot any changes. The National Breast Cancer Foundation offers a guide on how to perform a self-breast-exam if you're unsure how.
It's vital to tell your doctor if you notice anything abnormal or any changes in your breasts. The National Breast Cancer Foundation offers a Breast Cancer Symptom Checklist you can download to record any changes in your breasts. Filling out the checklist and giving it to your doctor will help him or her understand your symptoms.
It's also advised that women 40 and older receive mammography screenings. The frequency of how often you will need a mammogram can vary based on your age and family history. Women who have a family history of breast cancer may be advised to have mammograms more often and at a younger age. Even if you have no symptoms and no family history of breast cancer, you still need this preventative screening.
In addition to being self-aware, you should know the signs of breast cancer. Changes to mention to your doctor include:
A lump or thickening in or near the breast or underarm area
A change in size or shape
Dimpling or puckering of the skin of the breast
A nipple turned inward
Nipple discharge
Scaly, red or swollen skin on the breast
Breast pain
I hope this Breast Cancer Awareness Month you take the chance to teach yourself about breast cancer. You can learn more about the types of breast cancer, various treatment options and how you can get involved from the National Breast Cancer Foundation.
---
Amber Pharmacy's Oncology Center of Excellence provides patients with a dedicated team that provides consistent, exceptional care and clinical expertise. Our Oncology Center of Excellence team includes clinical pharmacists, nurses, pharmacy technicians and supportive staff. This team has extensive experience with oncology patients and provides support for the clinical, physical, financial, educational and emotional needs of patients and their caregivers.
About the Author
Jill Raybourn joined the Amber Pharmacy team in 2011 and currently leads Amber Pharmacy's Oncology Center of Excellence. She graduated from the University of Nebraska Medical Center in 2004 and completed a one-year Pharmacy Practice Residency at the University of Utah Hospitals & Clinics in Salt Lake City, Utah. In her spare time, you can find her at her three boys' sports activities. She also enjoys traveling, catching up on Netflix shows and playing the piano.
Source: The National Breast Cancer Foundation
This information is intended for educational purposes only. The material is not a substitute for professional help or medical diagnosis. It is important that you consult a medical professional if this information leads you to believe there is a concern for you or your patient(s). The diagnosis and treatment of all physical and/or psychological disorders requires a trained professional.