Amber Specialty Pharmacy Selected to Dispense Pfizer's CIBINQO™ for the Treatment of Atopic Dermatitis
March 09, 2022
Amber Specialty Pharmacy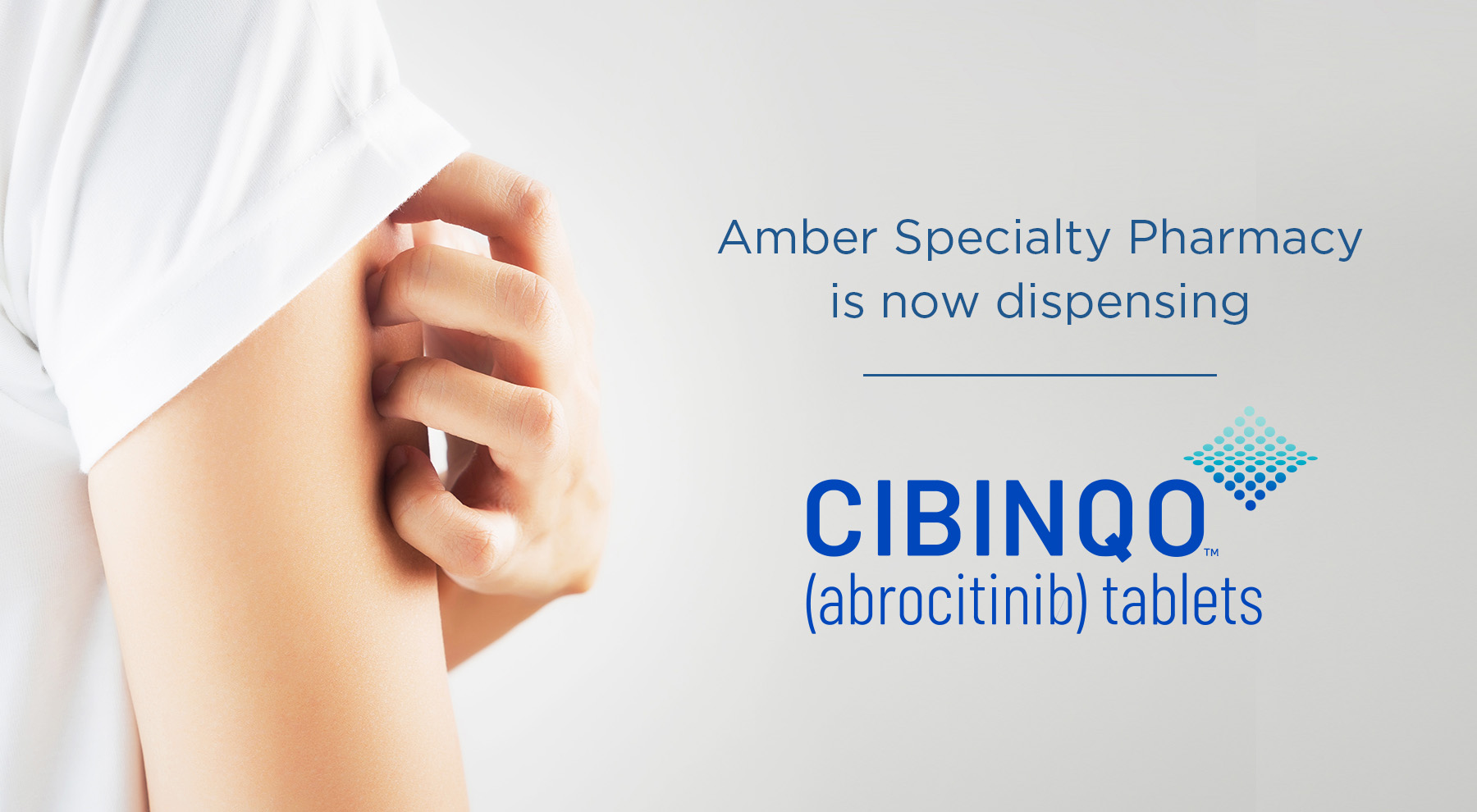 OMAHA, Neb. (Mar. 9, 2022) – Amber Specialty Pharmacy announces today that they will begin dispensing CIBINQO™ (abrocitinib), indicated for the treatment of adults with refractory, moderate-to-severe atopic dermatitis whose disease is not adequately controlled with other systemic drug products, including biologics, or when use of those therapies is inadvisable. CIBINQO™ is manufactured by Pfizer.
Atopic Dermatitis (AD) is a chronic inflammatory skin disease characterized by dry skin, intense itching and recurrent relapsing eczematous lesions with a heterogeneous clinical presentation. AD lesions are characterized by erythema (skin turning red or purple depending on normal skin color), induration (hardening)/papulation (formulation of papules), lichenification, oozing/crusting. AD affects up to 10% of adults worldwide. 
Amber Specialty Pharmacy's high-touch service model will support affected patients and dermatology offices throughout the country. Amber Specialty Pharmacy, a subsidiary of Hy-Vee, Inc., has 21 locations throughout the U.S.
"We are honored to dispense CIBINQO™," said Casey Decker, president of Amber Specialty Pharmacy. "We appreciate that Pfizer recognizes our outstanding track record of supporting patients living with AD. Dermatologists can trust our clinical and whole-health programs to make sure patients have the medicine and support they deserve."
For more information about Amber Specialty Pharmacy's services, call (888) 370-1724 or email [email protected].
About Amber Specialty Pharmacy Amber Specialty Pharmacy, a Hy-Vee, Inc. subsidiary, is a pioneer and leader in the specialty pharmacy industry with more than 23 years of experience providing specialized care for persons with chronic, complex medical conditions. Amber Specialty Pharmacy has built an exceptional reputation by providing personalized support and quality clinical care to patients and families. This comprehensive care approach supports the medical, emotional, financial and administrative needs of patients throughout the United States. Amber Specialty Pharmacy is accredited by the Utilization Review Accreditation Commission (URAC) and the Accreditation Commission for Health Care (ACHC). Amber Specialty Pharmacy headquarters are located in Omaha, Nebraska, with an additional 20 locations throughout the United States and Puerto Rico. Amber Specialty Pharmacy was named the 2020 Specialty Pharmacy of the Year by the National Association of Specialty Pharmacy.
Share Article