Amber Specialty Pharmacy Selected by Takeda to Dispense LIVTENCITY™ (maribavir) for the Treatment of Adults and Pediatric Patients with Post-Transplant CMV Infection/Disease
December 02, 2021
Amber Specialty Pharmacy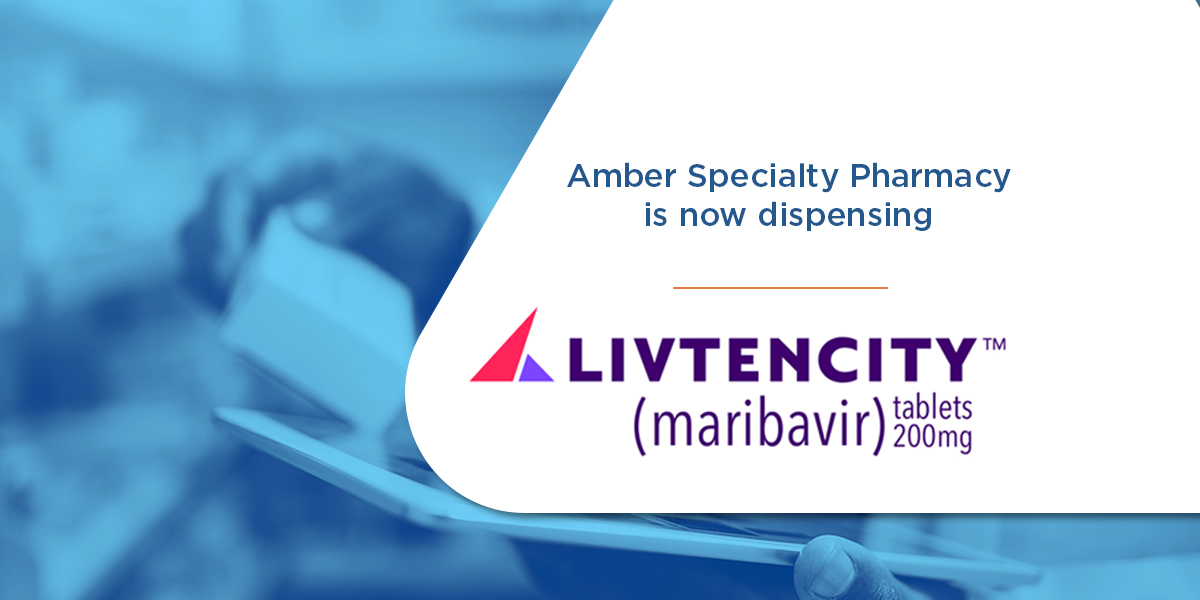 OMAHA, Neb. (December 3, 2021) – Amber Specialty Pharmacy announces that it will begin dispensing LIVTENCITY™ (maribavir), the first and only treatment indicated for the treatment of adults and pediatric patients (12 years of age and older and weighing at least 35 kg) with post-transplant CMV infection/disease that is refractory to treatment (with or without genotypic resistance) with ganciclovir, valganciclovir, cidofovir or foscarnet. LIVTENCITY™ is manufactured by Takeda, a biopharma company with US-based operational hubs in Cambridge and Lexington, Massachusetts.
CMV is a beta herpesvirus that commonly infects humans and typically resides latent and asymptomatic in the body but may reactivate during periods of immunosuppression. Serious disease may occur in individuals with compromised immune systems, which includes patients who receive immunosuppressants associated with various types of transplants, including hematopoietic cell transplant (HCT) or solid organ transplant (SOT). CMV is one of the most common viral infections experienced by transplant recipients and can lead to serious consequences including loss of the transplanted organ and, in extreme cases, death.
Through this partnership, Amber Specialty Pharmacy's best-in-class service model will support transplant facilities and patients throughout the country. Amber Specialty Pharmacy was established in 1998 as the first specialty pharmacy to focus on the life-long health and needs of the transplant community. Their billing expertise and high-touch services garnered the attention and respect of the nation's most prestigious transplant programs. Amber Specialty Pharmacy's foundation in transplant care propelled them into other therapeutic categories, including Oncology and Rare and Orphan.
"The transplant community has been at the heart of everything we do since the day we opened our doors, and it continues to be a vital pillar of our organization," said Kristin Williams, president of Amber Specialty Pharmacy. "We are honored that Takeda recognizes our passion for transplant patients, and we are grateful to partner with them to help deliver meaningful results and outcomes for CMV patients."
For more information about Amber Specialty Pharmacy's services, call (888) 370-1724, email [email protected], or visit www.amberpharmacy.com.

About Amber Specialty Pharmacy
Amber Specialty Pharmacy, a Hy-Vee, Inc. subsidiary, is a pioneer and leader in the specialty pharmacy industry with more than 23 years of experience providing specialized care for persons with chronic, complex medical conditions. Amber Specialty Pharmacy has built an exceptional reputation by providing personalized support and quality clinical care to patients and families. This comprehensive care approach supports the medical, emotional, financial and administrative needs of patients throughout the United States. Amber Specialty Pharmacy is accredited by the Utilization Review Accreditation Commission (URAC) and the Accreditation Commission for Health Care (ACHC). Amber Specialty Pharmacy headquarters are located in Omaha, Nebraska, with an additional 20 locations throughout the United States and Puerto Rico. Amber Specialty Pharmacy was named the 2020 Specialty Pharmacy of the Year by the National Association of Specialty Pharmacy.


Share Article