Amber Specialty Pharmacy Announces Promotions
October 22, 2021
Amber Specialty Pharmacy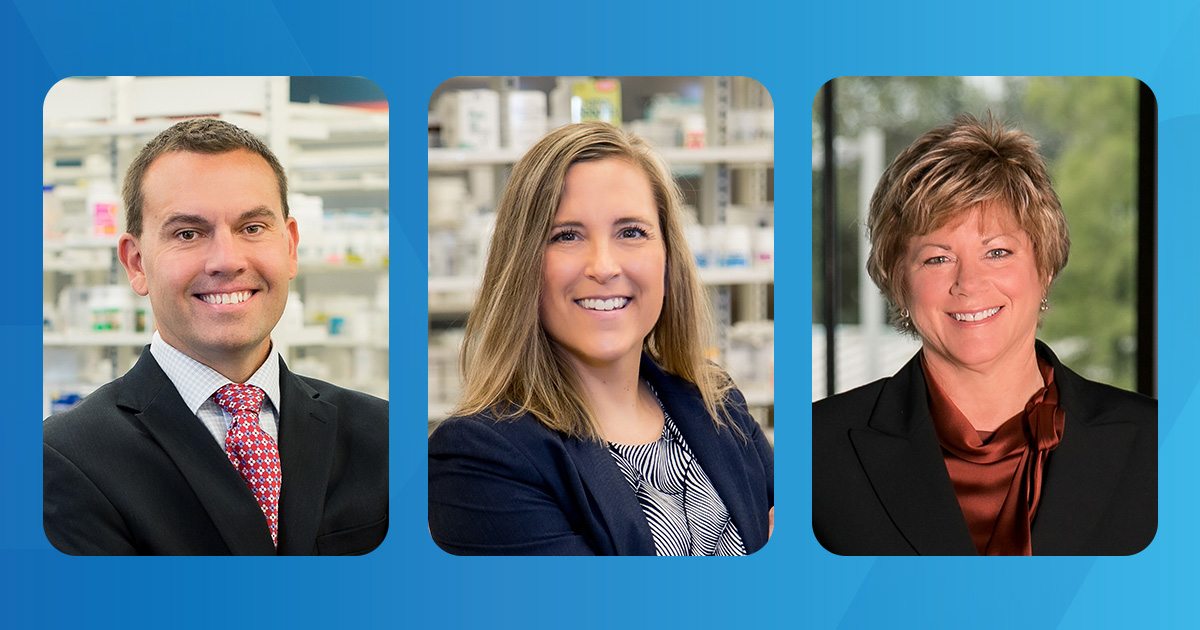 Ortner, Ruiz and Zatizabal continue to drive progress at Top 15 Specialty Pharmacy
OMAHA, Neb. (Oct. 22, 2021) — Amber Specialty Pharmacy announces the promotion of three top executives to new posts that focus on continued growth and innovation for the 2020 Specialty Pharmacy of the Year (National Association of Specialty Pharmacy).
John Ortner transitions to Senior Vice President, Finance and Chief Administration Officer.
Micaila Ruiz is taking on the new role of Senior Vice President, Chief Operating Officer and Chief Pharmacy Officer.
Julie Zatizabal is now Chief Revenue Officer.
Ortner
Ortner will continue his current duties of leading all areas of finance and will also lead human resources and auditing. Ortner has been with Hy-Vee, Inc. for almost 20 years, starting as an intern in the Internal Audit and Accounting Departments at Hy-Vee's West Des Moines headquarters. In 2002, he accepted a full-time position and was promoted in 2003 to an Executive Staff position. Ortner was promoted to Financial Reporting Manager in 2009, and in 2010 was elevated to the position of Financial Reporting Supervisor. John was named Assistant Director, Financial Reporting in 2013 and then Director, Financial Reporting in 2015. In 2016, Ortner accepted a promotion and move to Amber Specialty Pharmacy in Omaha, Nebraska as Vice President, Controller and Assistant Vice President, Hy-Vee.
Ruiz
Ruiz has been Chief Pharmacy Officer at Amber Specialty Pharmacy since 2016 and will continue to lead all areas of the pharmacy's operations teams as well as the business development team. In this role, Ruiz oversees the development of clinical management programs for patient populations that require individualized, high-touch care. Ruiz has been with the pharmacy's parent company, Hy-Vee, Inc., since 2011, starting as a pharmacy manager. In 2014, she was promoted to pharmacy supervisor and then again to Assistant Vice President in 2016. In 2019, Ruiz was named Chief Operating Officer, Amber Specialty Pharmacy. Ruiz received her Doctorate of Pharmacy degree from the University of Nebraska Medical Center and her Master's in Public Health from Creighton University.
Zatizabal
Zatizabal will lead Amber Specialty Pharmacy's national trade team, national provider team and the marketing team. Zatizabal's leadership will define how Amber Specialty Pharmacy is positioned in the specialty pharmacy marketplace amongst patients, providers, payers, and pharmaceutical manufacturers. Zatizabal's 30-plus years of industry experience positions her well to unify her teams' efforts and priorities. Zatizabal came to Amber Specialty Pharmacy in 2012, creating the company's first Trade Relations department. As Vice President of Trade Relations since 2014, Zatizabal established a national team of account managers who engaged directly with manufacturers to secure exclusive opportunities for newly developed therapies.
About Amber Specialty Pharmacy
Amber Specialty Pharmacy, a Hy-Vee, Inc. subsidiary, is a pioneer and leader in the specialty pharmacy industry with more than 20 years of experience providing specialized care for persons with chronic, complex medical conditions. Amber Specialty Pharmacy has built an exceptional reputation by providing personalized support and quality clinical care to patients and families. This comprehensive care approach supports the medical, emotional, financial and administrative needs of patients throughout the United States. Amber Specialty Pharmacy is accredited by the Utilization Review Accreditation Commission (URAC) and the Accreditation Commission for Health Care (ACHC). Amber Specialty Pharmacy headquarters are located in Omaha, Nebraska, with an additional 20 locations throughout the United States and Puerto Rico. Amber Specialty Pharmacy was named the 2020 Specialty Pharmacy of the Year by the National Association of Specialty Pharmacy.
Share Article