All in a Day's Work: An Inside Look at Amber Pharmacy's Patient-Focused Culture
Author: Amber Pharmacy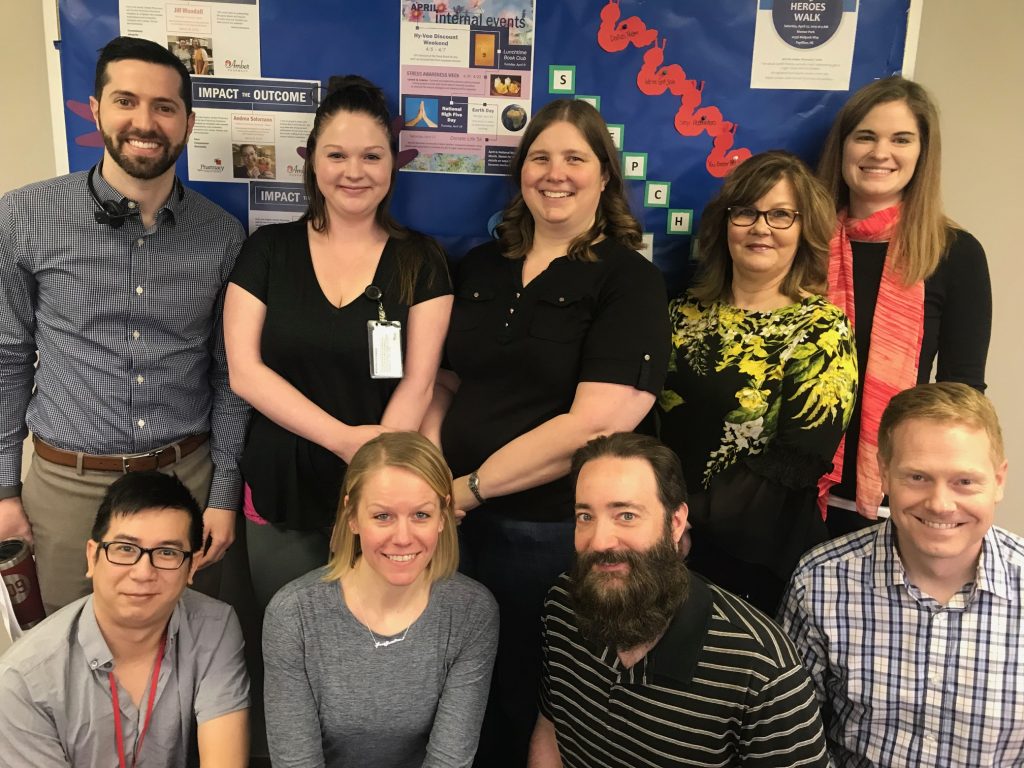 At Amber Pharmacy, we care for our patients, and we care for each other. We've built our reputation around genuine care for people, whether they're our patients or our coworkers. Learn more about the people at Amber Pharmacy who advocate, listen, counsel and provide care for people every day. Get an inside look at how Amy Hellbusch, Conner Marsh, Ellen Olson, Seth Boylan and Stacy Stutzka all contribute to Amber Pharmacy's patient-focused company culture.
Putting Amber Pharmacy Patients First
"One of the advantages of being an independently owned specialty pharmacy is that we have the services patients need and the flexibility to care for and be an advocate for our patients," says Conner.
At Amber Pharmacy, our team members are committed to putting patients first and delivering an exceptional patient experience with each interaction.
As Conner puts it, "We have a deep understanding that behind each prescription and on the other end of each phone call is someone who is relying on us to help them manage a challenging health condition. We don't take that responsibility lightly at Amber Pharmacy."
Before working with Amber Pharmacy, Ellen experienced our high level of care firsthand.
"I had a connection to Amber Pharmacy before I even started worked here," says Ellen. "My son, Christopher, had heart surgery at 2 months old. His doctor recommended a specialty medication for him during the flu season. I got Christopher's specialty medication from Amber Pharmacy's sister company, Hy-Vee Pharmacy Solutions, so I've experienced their exceptional care firsthand."
Helping Patients Access their Medication
At Amber Pharmacy, our compassionate, patient-first company culture motivates our team members as they provide patient services. The support services offered through Amber Pharmacy help our patients access their medications without frustrating delays in treatment. The team members who deliver these services genuinely care about the people they serve. For the Amber Pharmacy team, it's second nature to do everything we can to help our patients.
"Everyone at Amber Pharmacy understands our patients have a lot going on in their lives," says Ellen. "Worrying about getting their medication shouldn't be another stress for them. All of the departments at Amber Pharmacy work together to get our patients their medication. We do everything we can to allow our patients to focus on more important things."
Patient support services offered through Amber Pharmacy include clinical support from pharmacists and a registered nurse, a registered dietitian, a certified case manager, patient support specialists and benefit coordinators who help with the financial aspect of care.
"At Amber Pharmacy, we're basically a one-stop shop. There isn't a lot we don't do or can't do for our patients," says Amy.
Ellen agrees, "I do for patients what I would want someone to do for me if the roles were reversed. As an adjudicator, I want patients to understand their insurance and to feel confident that we're doing everything we possibly can for their benefit."
Our patients are not just a number. The Amber Pharmacy team wants to help each patient achieve the best possible outcomes.
"My advice for patients and caregivers is to reach out to us," says Stacy. "At Amber Pharmacy, we have resources to help you and give you peace of mind. You don't have to manage your condition alone."
Getting Involved at Amber Pharmacy
At Amber Pharmacy, not only do we care about our patients, but we also care about each other and the work environment we create. We believe everyone impacts the outcome of our company culture. With this in mind, we strive to build an engaging, positive, meaningful environment. Team members at Amber Pharmacy are empowered and encouraged to take an active role in our company culture. There are many opportunities for our team members to get involved in an event or a cause that inspires them, whether it's with our company-wide fundraising efforts or with our everyday routines.
"I feel that giving back and representing Amber Pharmacy in the community showcases our culture," says Stacy. "That's why I participate in our fundraisers and help raise support for the organizations that benefit our patients."
"I started our pop tab collection for the Ronald McDonald House, coordinated food drives for the local food bank, participated in bake sales, bought t-shirts and more. There are many ways to get involved and give back at Amber Pharmacy," says Stacy.
"I impact the company culture at Amber Pharmacy by coming to work with a positive attitude every day," says Amy. "I participate in our companywide group activities and encourage others to get involved, too."
A couple years ago, Amy took the initiative to organize our annual, company-wide secret Santa exchange during the holiday season. This event has become a highly anticipated event of the holiday season for many members of the Amber Pharmacy team.
Amber Pharmacy team members are encouraged to get involved and share their ideas with the Employee Engagement Committee. Conner explains how the Employee Engagement Committee helped her start an internal professional development book club.
"Currently, I'm serving on the Employee Engagement Committee," says Conner. "It's been an incredible opportunity to serve and represent our employees. The primary goal of this committee is to foster a positive company culture and bring forward ideas on how we can better serve our patients and each other. Through the Employee Engagement Committee, I was able to start a professional development book club that I believe has been a great opportunity for anyone who is invested in bettering themselves to learn essential life and leadership skills."
Not only do we encourage our employees to get involved and provide exceptional care, but we encourage them when they do. "I was very honored and humbled to be recognized as an Employee of the Year nominee last year," says Seth. "I like working for a company where I'm appreciated and valued. Amber Pharmacy has a positive atmosphere and a wonderful company culture."
Why I Work at Amber Pharmacy
Amber Pharmacy is different because of the way we treat our patients and the way we treat each other. Our company culture is evident in everything we do. Our commitment to care travels through different departments, job titles and unites us as one Amber Pharmacy phamily.
"During my 12 years at Amber Pharmacy, I've held numerous positions and each one has given me a feeling of fulfilment," says Stacy. "I feel like I'm making a difference in our company and in the lives of our patients."
Working in a dynamic industry like specialty pharmacy means there are many opportunities for Amber Pharmacy team members to learn and grow professionally.
"As the specialty pharmacy industry is constantly changing and evolving, I find it exciting that with these changes, I'm able to learn something new every day," says Seth. "This helps me become more knowledgeable in my role here at Amber Pharmacy and keeps every day interesting."
"I've been with Amber Pharmacy for almost seven years," reflects Amy. "I'm grateful to have found a company that I want to stay with long-term. Here at Amber Pharmacy, I've found a company that gives me a good work-life balance, gives me opportunities to learn and grow, and surrounds me with great coworkers."
Conner says, "I think Amber Pharmacy has a company culture that's unmatched in this industry. We have a relentless desire to help people, so whether you're a patient or an employee, you're always treated with the utmost kindness, respect and understanding."
Impact the Outcome with Amber Pharmacy
Everyone has an opportunity to impact the outcome at Amber Pharmacy. We need more compassionate, professional team members like you to join our team. Start making a difference in the lives of our patients and our team members by visiting the careers page on our website and viewing the latest available positions.