All in a Day's Work: Amber Pharmacy's Coordinated Effort to Deliver Exceptional Patient Care
Author: Amber Pharmacy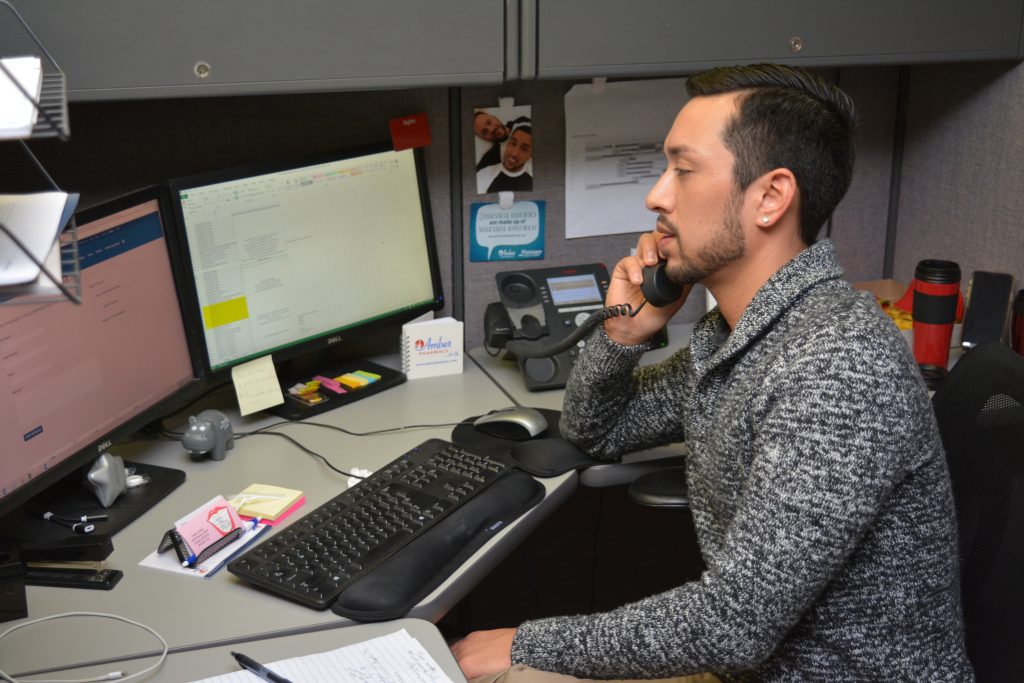 It takes a coordinated team effort to deliver the level of patient care you experience with Amber Pharmacy. Many people on our team operate behind the scenes or in roles you've never heard of, but everyone contributes to an exceptional patient experience. At Amber Pharmacy, patients are at the heart of what we do every day. We're grateful to have a team of caring, patient-focused professionals who invest in our company and invest in the lives of our patients. Get an inside look at how Amy Hellbusch, Conner Marsh, Ellen Olson, Seth Boylan and Stacy Stutzka contribute to the Amber Pharmacy team and help our patients access their lifesaving medications.
Amber Pharmacy Key Roles: Contract Analyst
The contracting team builds the foundation for everything we do at Amber Pharmacy, and Seth is a crucial part of that team. His keen attention to detail helps the contracting team meticulously review and respond to information that affects the entire company and our patients.
"My team and I collaborate with the trade, operations, reporting, finance and accounting teams to facilitate the execution of pharmaceutical manufacture contracts and various other agreements," says Seth. "Additionally, I work to maintain Medicaid provider records as well as Medicaid revalidations and re-enrollments. I respond to internal and external inquiries regarding payer networking analyses, billing and reimbursement issues, and Medicaid enrollment statuses. I also assist with relaying important payer and Medicaid communications to the appropriate internal teams."
Amber Pharmacy Key Roles: Implementation Specialist
Conner has become an invaluable member of our team as she leads the implementation process and manages multiple projects under tight deadlines.
"As an Implementation Specialist, my job is a hybrid of three different roles: project management, implementation and continuous improvement," says Conner. "My primary job functions are to ensure internal projects get across the finish line and are implemented successfully. I analyze processes and find ways to make them more efficient. Some of the projects I spend the most time working on are new drug implementations, RFP responses and the build out of our internal project management platforms."
Amber Pharmacy Key Roles: Adjudicator
An adjudicator, Ellen processes claims and reviews medical records. With her experience in insurance claims and billing, she's also able to support other departments within the company.
"My official title at Amber Pharmacy is Adjudicator, but it depends on the day!" says Ellen. "I work on patient claims, which means I bill out claims electronically or on paper. I also work on the aged claims to determine why a patient's insurance hasn't made a payment."
Amber Pharmacy Key Roles: Accounting Coordinator
Amy is an instrumental part of our Accounting Coordinator team. She works to make sure payments are posted efficiently and accurately.
"I'm responsible for downloading and posting insurance company payments and patient refunds," says Amy. "I make sure payments are applied to the proper accounts, get claims paid and posted efficiently and help other departments watch for discrepancies."
"Prescriptions come in, claims go out and then the payments for those claims come back to my team, and we make sure those payments are applied to the proper accounts."
Amber Pharmacy Key Roles: Audit and Quality Improvement
With diligence, organization skills and a strong commitment to our values of integrity and reliability, Stacy leads the Audit and Quality Improvement team at Amber Pharmacy.
"I'm the Audit and Quality Improvement Manager at Amber Pharmacy," says Stacy. "My everyday tasks include responding to audits performed by Medicare Part B and Pharmacy Benefit Managers (PBMs) and writing appeals for audit decisions. I also audit other departments within Amber Pharmacy for quality assurance and to make sure we uphold our integrity. On the audit team, we rely on patient care specialists and the Centers of Excellence teams to make sure we get the information we need from patients."
Working as a Team across Departments and Job Titles
There are many different roles within Amber Pharmacy. Each individual is an important part in serving our patients and helping them get the medication they need.
Ellen explains, "Being part of the Amber Pharmacy team means working together across different job titles and departments. It means doing something that isn't your 'job' to help out your coworkers and team members.
Stacy and Amy agree that even people who don't work directly with patients have crucial roles for the company and for our patients. As Stacy puts it, "My department doesn't work directly with patients, but we're all part of a well-oiled machine."
"Even though my team is on the "back end," and I don't work directly with patients, we're all part of a team here at Amber Pharmacy," says Amy. "Leaving at the end of each day with a sense of accomplishment is my favorite part of working at Amber Pharmacy."
"My favorite part about working at Amber Pharmacy is that it's constantly changing and evolving, which has given me the chance to gain valuable experience," says Ellen. "Helping out other team members has given me the opportunity to learn new skills and take on new roles within the company."
Learning Opportunities and Career Advancement
It's always intimidating starting a new job, especially in an industry as complex as specialty pharmacy. At Amber Pharmacy, we understand there's a learning curve. We provide the training and tools our employees need to be successful in their new roles.
"I've learned so much since starting at Amber Pharmacy!" says Ellen. "I knew nothing about insurance when I came, so I can totally relate when our patients are confused about insurance. Now I understand insurance billing, and I'm able to help our patients and my family members with their claims."
Amy agrees, "Since joining Amber Pharmacy, I've learned the world of specialty pharmacy. When I came to Amber Pharmacy, I knew virtually nothing about pharmacy billing."
The learning opportunities provided through Amber Pharmacy helped Conner with her transition from a college student to a young professional.
"Four years ago when I started my career at Amber Pharmacy, I was 20 years old, still going to school full-time and was not sure what career path I wanted to follow," says Conner. "Since then, I've been presented with opportunities to explore different areas within Amber Pharmacy. Ultimately, I've discovered what I feel is the perfect career path for me in project management and continuous improvement."
Seth has also advanced his career through the support and growth opportunities provided at Amber Pharmacy.
"I started with Amber Pharmacy in the billing department and having since moved to the contracting and credentialing department," says Seth. "The support from this company has shown me career growth is possible. I feel that Amber Pharmacy truly cares for the development and betterment of their employees. It's encouraging to know that the sky is the limit here at Amber Pharmacy."
Advance Your Career at Amber Pharmacy
Amy, Conner, Ellen and Stacy are four out of the many amazing Amber Pharmacy team members scattered throughout the country. Amber Pharmacy is looking for compassionate, talented professionals to join our team. If you're interested in learning more about our current career opportunities, visit the careers page on our website.