Adam Winstead Recipient of the 2020 Specialty Pharmacy Service Excellence Award from the National Association of Specialty Pharmacy
September 28, 2020
Amber Specialty Pharmacy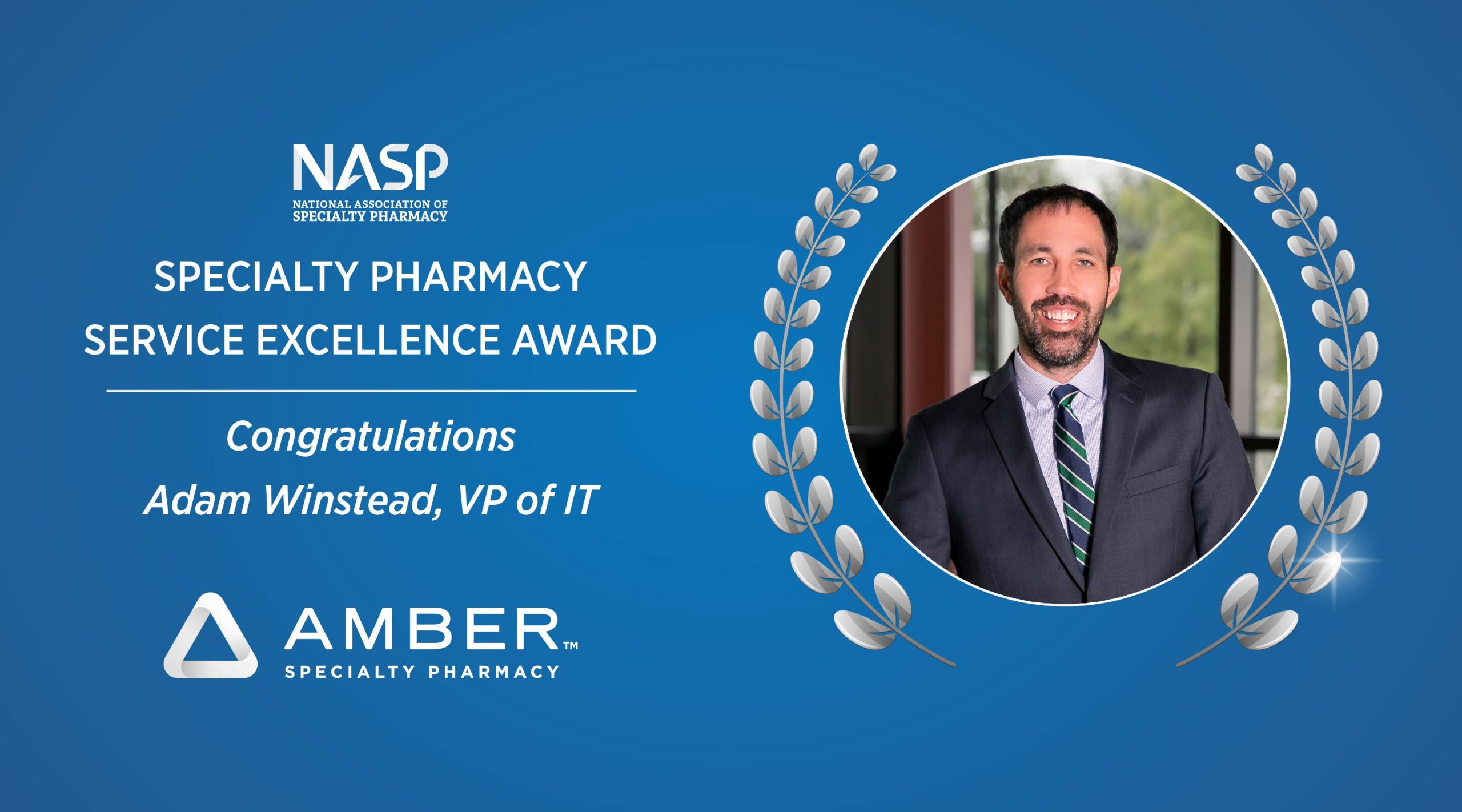 OMAHA, Neb. (Sept. 25, 2020) – This month, the National Association of Specialty Pharmacy (NASP) awarded Adam Winstead, vice president of information technology at Amber Specialty Pharmacy, with its prestigious Specialty Pharmacy Service Excellence Award.
To say Winstead was surprised is an understatement. He didn't even know his peers at Amber nominated him until he received the call that he won.

"I actually had no idea I was nominated, said Winstead. "It was a complete surprise. I'm so honored that my peers nominated me because what we do is always a team effort. I have a great team that makes my job easier."
The Specialty Pharmacy Service Excellence Award is reserved for an industry professional who is not a pharmacist, but has demonstrated a commitment to delivering high-quality service and care to patients.

According to the nomination, Winstead has excelled in providing innovative approaches to patient care by implementing new technology for improved communications for patients, including a new texting platform that saw a 211% increase in patients opting in. Winstead also spearheaded a partnership with one health care group to develop an electronic adherence
program that provided patients with a choice of notification and reminder mechanisms and also a secure portal for tracking and analysis.

When the pandemic forced many employees at Amber to work from home, Winstead and his team quickly ensured all calls into the customer service center were routed correctly to those off-site so that someone answered every patient call.

But that wasn't all. Winstead had the idea to work with DoorDash to provide expedited, sameday delivery to patients within close proximity to Amber's national network of pharmacy locations. This allowed Amber to support underserved patients who either weren't able to or couldn't afford to travel to pick up medications, or were a member of the vulnerable population that needed to limit exposure during the pandemic.

"Adam is a true professional and an innovator," said Aaron Wiese, president of Amber Specialty Pharmacy. "I don't know what we would have done during the pandemic without him. We had employees working from home within days, and a transition plan was completed within a week. Even prior to COVID-19, he was deserving of this award."

Amber Specialty Pharmacy — a subsidiary of Hy-Vee, Inc. — also was named 2020 Specialty Pharmacy of the Year by NASP.
NASP is the only nonprofit national association representing all stakeholders in the specialty pharmacy industry. The mission of NASP is to elevate the practice of specialty pharmacy by developing, delivering and promoting continuing professional education and specialty certification while advocating for public policies that ensure patients have appropriate access to specialty medications in tandem with critical services.
About Amber Specialty Pharmacy
Amber Specialty Pharmacy is a pioneer and leader in the specialty pharmacy industry with more than 20 years of experience providing specialized care for persons with chronic, complex medical conditions. Amber Specialty Pharmacy has built an outstanding reputation by providing personalized support and quality clinical care to patients and families. This comprehensive care approach supports the medical, emotional, financial and administrative needs of patients throughout the United States. Amber Specialty Pharmacy is accredited by the Utilization Review Accreditation Commission (URAC) and the Accreditation Commission for Health Care (ACHC). Amber Specialty Pharmacy headquarters are located in Omaha, Nebraska, with additional pharmacy locations available in 20 states throughout the United States.
Share Article