Amber Specialty Pharmacy Named 2020 Specialty Pharmacy of the Year by the National Association of Specialty Pharmacy
September 16, 2020
Amber Specialty Pharmacy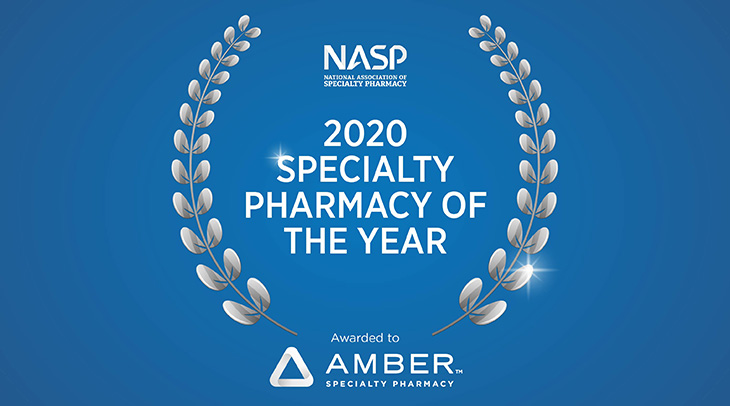 OMAHA, Neb. (Sept. 16, 2020) – Amber Specialty Pharmacy – a subsidiary of Hy-Vee, Inc. –has been named 2020 Specialty Pharmacy of the Year by the National Association of Specialty Pharmacy (NASP). The prestigious award was presented by Carmine DeNardo, NASP Chairman of the Board, and Sheila M. Arquette, RPh, NASP President and CEO, during the eighth annual NASP Annual Meeting & Expo held virtually Tuesday afternoon.
NASP is the only non-profit national association representing all stakeholders in the specialty pharmacy industry. The mission of NASP is to elevate the practice of specialty pharmacy by developing, delivering and promoting continuing professional education and specialty certification while advocating for public policies that ensure patients have appropriate access to specialty medications in tandem with critical services.

The Specialty Pharmacy of the Year award is a coveted peer-nominated and peer-reviewed award honoring a specialty pharmacy that demonstrates exceptional service, performance and quality in the areas of community involvement, patient satisfaction, cost management, quality/performance improvement initiatives and innovation in the field of specialty pharmacy, which includes patient care and outcomes, disease state and therapy management, and patient engagement.

"Amber Specialty Pharmacy is proud to receive such a prestigious honor. To be awarded Specialty Pharmacy of the Year is a great achievement not only because we were recognized by our peers as best in class, but it emphasizes our long-standing commitment to specialty pharmacy patients, and highlights our recent innovations and expansion," said Aaron Wiese, president of Amber Specialty Pharmacy. "For more than 20 years, we have cultivated and maintained a reputation as the premier independent pharmacy that provides personalized patient care and our innovative approach exemplifies the kind of individualized care that only an independent pharmacy can provide."

"Millions of Americans suffer from some of the most devastating and complex diseases. They depend on specialty pharmacies to deliver knowledgeable, skilled and caring services to help them manage their conditions," said Arquette. "Specialty pharmacy provides a crucial and unique service to the most vulnerable patients, ensuring they have access to the life-changing and often times life-saving medications they need, along with the necessary support services to ensure successful therapeutic outcomes. Amber Specialty Pharmacy is an exemplary representative of the specialty pharmacy industry and demonstrates an inspiring commitment to making quality care accessible to their patients. We congratulate them and commend them for their efforts."
About Amber Specialty Pharmacy
Amber Specialty Pharmacy is a pioneer and leader in the specialty pharmacy industry with over 20 years of experience providing specialized care for persons with chronic, complex medical conditions. Amber Specialty Pharmacy has built an outstanding reputation by providing personalized support and quality clinical care to patients and families. This comprehensive care approach supports the medical, emotional, financial and administrative needs of patients throughout the United States. Amber Specialty Pharmacy is accredited by the Utilization Review Accreditation Commission (URAC) and the Accreditation Commission for Health Care (ACHC). Amber Specialty Pharmacy headquarters are located in Omaha, Nebraska, with additional pharmacy locations available in 20 states throughout the United States.
Share Article