Amber Pharmacy Marketing Team Wins Pinnacle Award
Author: Amber Pharmacy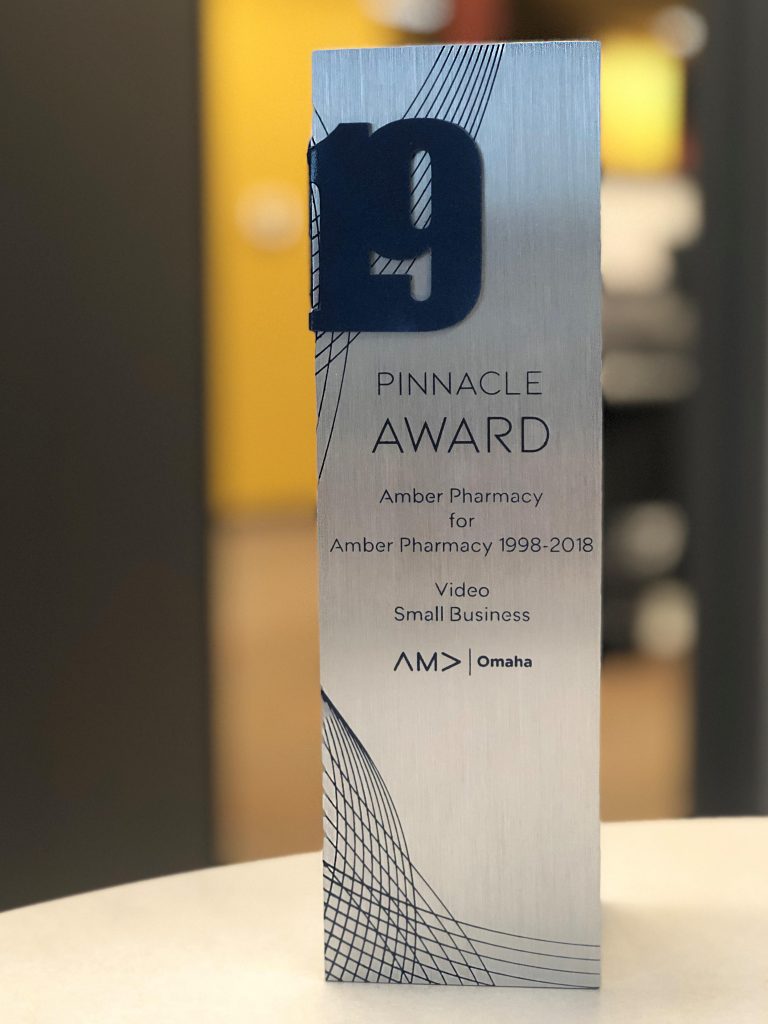 Amber Pharmacy's in-house marketing team won numerous awards at the recent Pinnacle Awards Dinner hosted by the American Marketing Association (AMA) Omaha chapter. The annual Pinnacle Awards is a results-based competition judged on metrics and measurable tactics.
Amber Pharmacy received a Pinnacle statue, the highest recognition, for their "Amber Pharmacy 1998-2018" video. The marketing team was also awarded gold in the Total Marketing Campaign category and silver in the Promotions category.
"We are extremely proud to be recognized among Omaha's top marketing and creative talent," said Jillian McNamee, Director of Marketing. "The awards are a testament to the Amber Pharmacy marketing team's dedication, expertise and sheer hard work."
The AMA Cincinnati and Madison chapters judged work from Omaha-area marketing organizations. Judges selected winners based on each campaign's measurable success. Submission categories included student, public relations, communications, video, promotions, total marketing campaign and digital media. Amber Pharmacy's marketing team submitted three projects from 2018 and won three awards.
Amber Pharmacy's award-winning marketing department is responsible for all external and internal marketing and communications. From concept to execution, all key marketing functions are completed in-house. Ultimately, the Amber Pharmacy marketing department supports the company's overall goal of providing personalized service, clinical expertise and patient-centered care.